Welcome...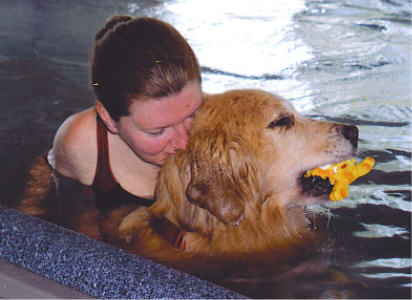 NOTE: Update 8/13/2020 Aquadog Spa currently has no availability for new clients, or returning clients that have not been swimming since January 1, 2020. If you are interested in hydrotherapy for your dog, please call or email to check on availability or to be added to the waiting list. Thank you.
Do you have an aging pet that is slowing down? Having trouble with stairs? A pet that has had an injury or orthopedic surgery? If so, we can help!Animal massage and canine hydrotherapy can help with these issues and so many more!
The canine hydrotherapy session can really benefit your dog. The session is held in our soothing, heated swim spa, where we combine warm water massage with swimming. Each session is tailored to your dog's needs. Hydrotherapy is great for so many issues because the water gets the weight off your dog's joints and lets them move freely in the water.
We also provide animal massage "on land" for dogs at the spa. You know how much you benefit from massage, and so can your dog!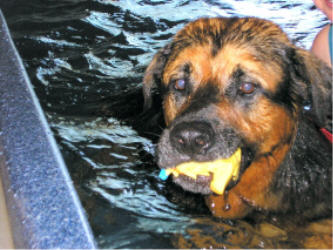 And we have fun! If your dog loves to swim, doesn't like the water, or has never been in the water, we can work with your dog to make the session an enjoyable experience for both you and your dog. The water is maintained between 87 and 90 degrees (warmer in the winter and cooler in the summer) to warm and soothe the dog's muscles.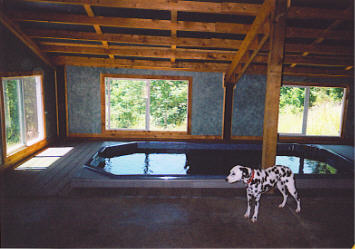 The 14' x 7' swim spa is at ground level, surrounded by non-slip surfaces, to allow easy access for older or injured pets. The spa is equipped with four swim jets at one end to provide additional resistance as the dogs gain strength. The spa also has side jets like a hot tub, so if you can relax in the spa while your dog swims if you choose to.