About Us...
Cindy Hickman, LMP, SAMP
Cindy, owner of Aquadog Spa, is a Licensed Massage Practioner, Nationally Certified in Therapeutic Massage and Bodywork, and endorsed as a Small Animal Massage Practitioner. Cindy is a graduate of the Renton Technical College Massage Therapy Program and the Northwest School of Animal Massage. She is a member in good standing of the IAAMB (International Association of Animal Massage and Bodywork) and the ACWT (Association of Canine Water Therapy).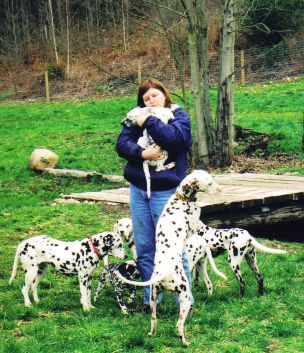 Cindy operated Sparky's Dalmatian Rescue for several years, placing dozens of Dalmatians rescued from shelters into great, permanent homes. She also adopted several Dalmatians who were unable to find homes due to age, emotional, or health problems.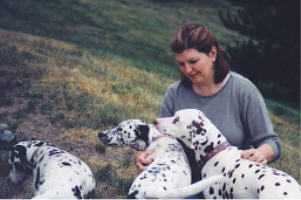 Cindy was inspired by two of these dogs, Susanne and Dolly. Susanne had chiropractic problems and her holistic vet recommended massage and swimming. It was amazing how much better Susanne felt after she started swimming and getting massage! Dolly had arthritis in her back, shoulders and knees and also benefited greatly from massage and swimming.